Exterior Upholstery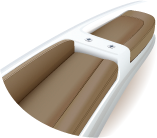 BRIDGE CUSHIONS AND PADS
The Best Seat in the House
We have been continuously supplying customers with quality cushions and pads used for exterior marine seating. With a wide range of materials, fabric colors, trimming and tie options, our in-house upholstery department will create your custom cushions according to your individual needs. Whether it is a custom bridge or mezzanine cushion or replacement coaming or sun pad - any shape or size is possible!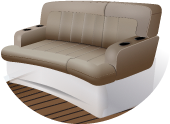 MEZZANINE SEATING
Creating Style and Comfort
Revitalize the look and feel of your mezzanine level seating with new fabrics, foam replacement, cushions and pillows. No matter what kind of boat you own, we offer the best materials to get the job done.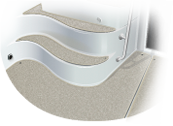 CARPETS AND RUNNERS
Custom Fit
It's always wise to upgrade your boat flooring and replace old and worn out carpets or carpet runners. We offer high quality stain-resistant and mildew resistant marine carpet and carpet runners to withstand the elements. With a wide selection of custom styles and colors to choose from, we can craft the perfect fit for any type boat.
What We Offer
1
Bridge + Mezzanine Cushions
High quality, custom fitted to any seating arrangement and fabricated with marine grade materials. Choose a wide range of colors and fabrics.
2
Coaming + Sun Pads
Custom fit to your boat and designed to work around hatches and windows. Available in variety of thickness and made for the marine environment, our coaming and sun pads are resistant to fading, cracking, or mildewing.
3
Carpet Runners
Add a touch of elegance to your boat's interior by installing a custom fitted Sunbrella® carpet runner. Easy to clean, our runners offer unmatched protection for your boat.
4
Cockpit Carpets
Marine carpet is vital to the comfort of the crew as well as any passengers. Replace your worn out carpet or install carpet to bare flooring for added comfort.