Exterior Covers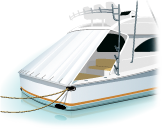 BOAT COVERS
Best Protection and Weather Insulation
With over 40 years behind us as a business, we can fabricate the perfect cover regardless of boat make, model or year. Essential for protecting a boat and its passengers against sun and rain, our boat covers are superior in quality and are made to be a perfect fit! A proper fitting cover also protects the boat interior from outside elements when in storage. We are your source for hand crafted bridge, cockpit, helm and chair covers.

images

DISPLAY COVERS
Protecting Valuable Equipment
Our custom display covers keep your valuable electronics and other equipment clean, dry and safe. Water repellent and made from durable material, display covers offer perfect protection from environmental contaminants for multifunction displays, fishfinders, marine radar, autopilots, GPS and other accessories.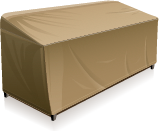 FURNISHINGS and APPLIANCES
Cover All Your Bases
One of the best ways to keep your exterior appliances and furniture looking good and functioning properly is to keep them covered when not in use. Our exterior covers protect against UV rays and resist fading and cracking. Water and wind resistant, these covers can quickly be installed to provide protection to the entire piece of furniture.

images
What We Offer
1
Bridge + Cockpit Covers
Our custom-fit, heavy-duty bridge and cockpit covers are waterproof and UV resistant. Available in a variety of colors, our covers are easy to clean as well as mildew resistant.
2
Helm + Console Covers

Protect your helm and console from the harsh elements. Our waterproof, heavy-duty covers are softer and fit better than traditional vinyl. An affordable way to protect your helm and its onboard equipment!
3
Instrument + Display Covers
An essential part of boating and safety, marine electronics need to be in the best shape at all times to function properly. That means keeping them protected from moisture, dust and contaminants.
4
Helm Chair Covers
Keep your helm chairs long lasting and looking their best while protecting your vinyl and custom teak. Our helm chair covers are custom-fit and reinforced to prevent chaffing.
5
Deck Furniture Covers
Help prolong the life of your cockpit and deck furniture. Exterior covers provide ultimate protection from inclement weather for chairs, tables, sofas, settees and couches.
6
Appliance Covers
Protect your outdoor bar, grill, television or recreational vehicle from adverse weather conditions. Our appliance covers are water and mildew resistant.