Enclosures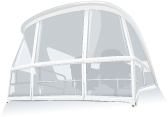 Quality and Performance
For Marine and Residential Applications
All of our enclosures provide durable protection and security from dust, water, sun and pollutants. Individually tailored to each application, Costa enclosures are manufactured and constructed with the highest quality and most advanced materials that meet or exceed OEM performance.

Costa Clear
©
Elite Series
Identifed by it's affixed label, every Elite Series enclosure comes with clear acrylic glass, YKK© uv zippers, Gore-tex® TENARA® thread, Stamoid® marine fabric and our patented Costa Track®. It is the only rigid enclosure offered by Viking Yachts, F&S Boatworks, Weaver Boatworks and Jersey Cape Yachts. Panel openings, seam placements and overall aesthetics are carefully crafted to ensure your optimal comfort and convenience. The Elite Series is custom patterned, fabricated in our shop and installed on your boat by our skilled craftsmen.

maintenance and cleaning

images

Standard Series Enclosures
Besides our Elite Series, Costa Marine can meet your needs for any standard enclosure. Sufficient enough to provide protection from wind, rain and debris, our standard enclosures are available for a variety of applications and are designed to meet the same rigorous environmental conditions as our elite series.

maintenance and cleaning

images
Viking Yacht owners!
We may have your patterns on file. To inquire, have your make and model number available and please call us at 609-965-1538
What We Offer

clear acrylic glass
YKK© uv zippers
Gore-tex® TENARA® thread
Stamoid® marine fabric
patented Costa Track®

Replace that old flange style track with our patented track system!
Standard Series
YKK© UV zippers
Fully finished and reinforced edges
Gore-tex® TENARA® thread
40 mil Clear Vinyl or Strataglass